The science behind the comic
Max Order
Max Order is a story inspired by the ERC project Flow Machines. Creativity is indeed a research subject on its own, and the ERC project Flow Machines takes a computer science perspective to look to it– by developing tools that can boost creativity thanks to artificial intelligence.
The key idea of the Flow Machines project is to relate the notion of creativity to the notion of "style". Style is what makes an author (composer, writer, painter, etc.) recognizable, "different".
Chapter 14
▾
The story of Max is coming to an end as Flowy, the symbol of creative interaction with AI, is penetrating not only Max's reality but also her creators'. Indeed, AI content creation is becoming more and more common, and even Wibbitz has shared an infographic mapping out its landscape. Look into it, you'll find Flowy!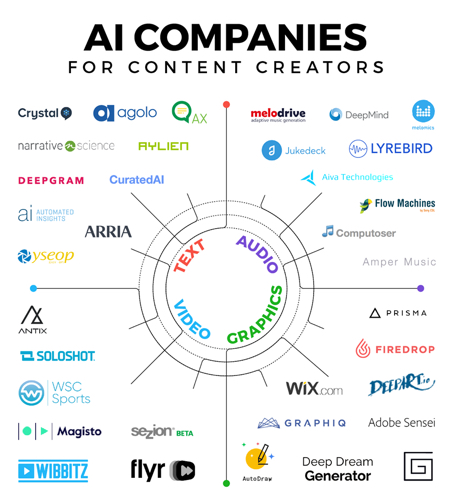 The title Magic Man has been composed by Flow Machines exploiting the style de Michel Berger, a French singer and songwriter.
Chapter 13
▾
Fame and success are coming for Max and she's meeting again with Flowy in a dream. But at what price? Also, something odd is happening in meta-narrative level: is seems that Flowy is part of that reality as well…
The soundtrack of this episode comes from the AI composed song "Mister Shadow"."Mr Shadow is composed in the style of American songwriters such as Irving Berlin, Duke Ellington, George Gershwin and Cole Porter. French composer Benoît Carré arranged and produced the songs, and wrote the lyrics.
Chapter 12
▾
It seems that Max has acquired the capacity to create as a sleepwalker artist but she has lost her assistant Flowy; even worst, nobody seems to remember him! Has he ever existed?
In the second level dialogue you will encounter a QRcode. If you open it with an app, (there are many and they are all free, for example Foudre QRcode), you will find an Easter egg. Our scenarists are also presenting the Flow Machines logo – which, not coincidentally, is a parrot.
Our story is sailing towards the end, when all the puzzle pieces will come together; so stay tuned!
Chapter 11
▾
Finally, in this chapter, it seems that Max has found her own style. This style is embodied in a strange sculptural object which has something magical to it.
During the dialogue among those four who seem to be the comic's creators, some of the key aspects of Flow Machines are made explicit: notably, the searching for an original creation departing from a database, the AI capability to recognize styles and style as a computational object.
And we also have two coups de theatre: Max's father is dead, her mother is crying at his funeral, and Flowy… but… who the hell is Flowy?
Chapter 10
▾
While Greg goes on with his tacky art, getting more and more popular and consensual, Max is still locked-up in one of the many rooms of the Castle.
She is fighting and desperately working to find her own style, with the help of Flowy.
But will you be able to tell the difference between Max's art and what Flowy draws? At least in the case of music, it is quite difficult! Check out this article released by Quartz about one of the results of the Flow Machines project: AI can simulate Bach's style. Can you tell the difference?
Chapter 9
▾
In this chapter we see how Flowy acts as a database (of Picasso quotes) that intelligently, or at least so it seems, interacts with Max. As for Artificial Intelligence, the machine proposes paths to be followed but it is the artist who evaluates and interprets such suggestions.
Several Easter eggs are scattered throughout the chapter: as for Flowy's quotes, one of the parrots' that Max is drawing on the wall is by Picasso (can you recognize which one?)
Also, on the walls of Thomas' "castle", you will recognize (if you are a computer scientist or a mathematician!) the graphic representation of Markov Chains, the technique at the very basis of the Flow Machines project and that allows to automatically generate our soundtrack.
The nightmare scene is a citation of David B., author of several graphic novel masterpieces.
The first song is "Mister Shadow", the dream song is "Où est passé l'ombre" while the end song is "Insensitive", a variation of Insensatez by Tom Jobim. All songs are by Benoît Carré and Flow Machines.
Watch Fiammetta Ghedini coloring Flowy in the video below.
Chapter 8
▾
It seems that Max is bound to copy, just like her father.
Indeed in Artificial Intelligence it is relatively easy to "copy" the style of a composer or of a writer: but then, if the machine does not go beyond that, the result is going to be just a long sequence of notes or words without a structure, or a copy of an already existing artwork.
How to escape plagiarism, then? How to invent something new?
Well, for example, the algorithms behind Flow Machines can suggest new creative paths on the basis of a corpus they learned, just like Flowy inspires Max to find her own style by endlessly repeating all the Picasso's quotes he learned by hearth!
In this episode the music is, for once, not generated by AI but it is a reference to the perhaps most notorious case of musical plagiarism.
"Copyrighted Content used on the basis of 'Fair Use"
George Harrison, My Sweet Lord, 1970
The Chiffons, He's So Fine, 1963
Chapter 7
▾
In this chapter we featured two extracts of the two entire pop songs composed by Artificial Intelligence.
The release of these two tracks had a big impact on the media so maybe you have already heard them, but if you didn't, here you can find the uncut versions:
And if you want to know how this is done (how much Flowy worked and how much Max created!) please check this page on the Flow Machines website.
On the other hand, the visuals produced by a machines are actually pictures modified via the Prisma application, which exploits deep learning techniques to modify target images.
Chapter 6
▾
In the future, AI will have a major role in creativity and production of artistic contents. And today already, thanks to research, AI can do what Flowy does with Max: for example, suggesting a subject and a style to be used to implement it, not only in the visual arts but also in music and writing.
For example, the West End musical Beyond the Fence
has been composed with the help of computers, that suggested the plot and co-composed the music.
In the second metalevel of narration, in this chapter you can listen to two songs co-composed by musician Benoît Carré with the help of his own "Flowy": the FlowComposer, the Flow Machines Artificial Intelligence application that can assist musician to compose in any style.
You can find other compositions here and follow Max and Flowy on Tumblr!
Chapter 5
▾
In this chapter you heard two songs composed by FlowComposer, the Flow Machines Artificial Intelligence application that can assist musicians to compose in any style. The first is "flow-composed" by Flow Machines artist in residence Benoît Carré in the style of the iconic french composer Michel Legrand and the second one by Amaury Delort in the style of a songset of American songwriter. Every musician can use AI as a tool to compose in his/her style, and not as a constraint!
In this chapter you also had a glimpse of a "second level" where a discussion about the scenario itself takes place. The idea here is to literally illustrate the process of metacreation, which is what happens when machines exhibiting creative behavior are able to reflect on their own process of creation.
Chapter 4
▾
Thanks to Artificial Intelligence, it is possible to create content imitating a specific style: the style of an artist (for example, Picasso) or the style of a specific work (for example, Guernica).
In the Flow Machines project, we apply this concept to music. For example, the last track you heard is an automatic composition in the style of Mile's Davis, rendered with guitar chunks from Get Lucky.
But the question is, how can you imitate a style without going too far, that is to say falling into plain plagiarism? The answer is… Max Order!
References
Papadopoulos A., Pachet F. and Roy P., Generating non-plagiaristic Markov sequences with max order Sampling, in "Creativity and Universality in Language", in Degli Esposti, M., Altmann, E. & Pachet, F. (eds), Springer, Morphogenesis series, 2016.
Chapter 3
▾
All the music in this chapter is produced by a collaboration between our Flow Machines and French composer and singer Benoît Carré.
Benoît has been using different machines learning systems: the FlowComposer, that assists artists composing leadsheets in specific styles, and and ReChord which renders harmonies and melodies produced by machine learning with chunks of pre-recorded audio accompaniments.
You will notice that artificial intelligence has learned to play Ode to Joy in heavy metal style!
For all the other styles, Hear AI play Beethoven like The Beatles on TechCrunch.
References
Pachet, F. and Roy, P. Imitative Leadsheet Generation with User Constraints. 21st European Conference on Artificial Intelligence (ECAI 2014), pages 1077-1078, Prague (Czech Republic), August 2014
Ramona, M., Cabral, G. and Pachet, F. Capturing a Musician's Groove: Generation of Realistic Accompaniments from Single Song Recordings. 24th International Joint Conference on Artificial Intelligence (IJCAI 2015), pages 4140-4142, Buenos Aires (Argentina), July 2015
Chapter 2
▾
Flow Machines can not only recognize style, but also and above all understand it and turn into a computational object to apply to any target – for instance, music.
In the first two chapters of Max Order, you encounter several examples of how different styles can be applied to the same musical piece: Ode to Joy. You listened to Ode to Joy in Bach's style, pop style, Bossa nova style…
To understand how this magic works and look at the big picture, you can check this video:
Chapter 1
▾
The first thing to know is that machines can recognize style – have you found the first hint in the chapter?
Some researchers claim that thanks to statistics and machine learning we can predict the popularity of artistic works. In music, this field has even a name: Hit Song Science. But, is it really a science?
Curious for more? Check this graphic facilitation video about Flow Machines!